Janene Pr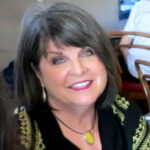 att is a classically trained artist who began drawing as a child.  She grew up with a very artistic family and thought everyone in the world loved to draw and paint.    When she was younger, she used her drawing skills to draw simple line drawings and illustrations for Christian missionaries in four countries, including Romania and China.
Later, she was fortunate to study still life and portrait with  Nelson Shanks, David A. Leffel, Henry Yan, Gregg Kreutz,  Sherrie McGraw, Lea Colie Wight, Aaron Westerburg, and Robert Liberace.  Thankful for their teaching, she has led demonstrations and taught drawing and painting to others.
A highlight of her painting career came when she and a group traveled with Nelson Shanks to Russia for his art opening at the Russian Museum in St. Petersburg. (see picture of the group at the Hermitage where Nelson led the intimate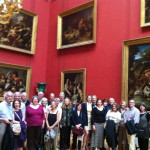 group on a tour of the many beautiful Rembrandt's, Caravaggio's, etc.)
Drawn to narrative paintings, she takes scenes and memories from her life and enjoys sharing these with her audience.   Janene has shown her work in various shows and galleries including the Texas Gallery,  The Forsyth Museum at Texas A&M,  the Scottsdale Art School, and  the George Bush Presidential Library  October of 2013.
She was named "Best and Brightest" by The Scottsdale Artist's School 2011; was juried into the Forsyth Gallery and Museum in  2011 and in 2012.
She was chosen to be published in the book  Strokes of Genius 5: Best of Drawing | Composition released in 2013 by North Light Books.
She was named Texas Portrait Artist of the Month several years ago.
Janene has won many national and international awards for her paintings as well as her drawings.
She realizes it a God-given privilege and blessing to be a painter.   She is grateful for the Lord's grace in giving her this privilege.
An eye disease that causes blindness called Fuch's Corneal Dystrophy kept her from seeing well for a few years. During this time she tried doing some digital painting and drawing.
Cataract surgery followed by corneal transplants on both eyes has improved her vision.  "Someone had to die so that I could see again. Just a perfect picture of what Christ has done for us all.  I am grateful for the gift of their corneas and most of all for the gift Christ gave to me when He died."
" I believe the most fun I've had in my life as an artist are the times I've spent getting to know other artists from around the world.  I love hearing their stories and seeing what inspires them.  I consider them some of my best friends."